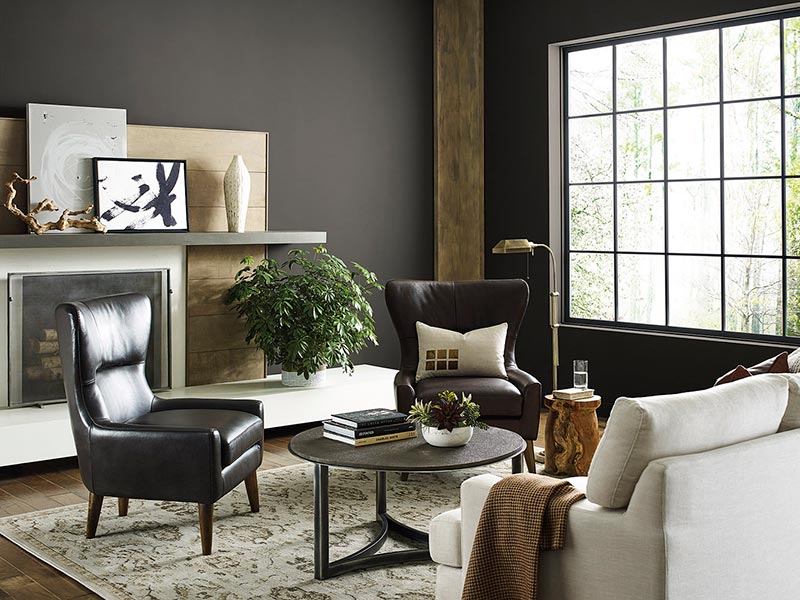 Paint company Sherwin-Williams announced its 2021 color of the year: "urbane bronze." The hue is said to instill calmness and has ties to nature, Sherwin-Williams says.
"The home is now the ultimate retreat from the world, and color is an easy and effective way to create a personal haven," says Sue Wadden, director of color marketing at Sherwin-Williams. "Urbane bronze encourages you to create a sanctuary space for mindful reflection and renewal."
The color trends of 2020 ushered in a return to bolder hues, moving away from the popularity of cooler neutrals that dominated most of the 2010s. Now, Sherwin-Williams describes the 2021 choice as "bold and understated at the same time."
"Urbane bronze is a comforting color, drawing from nature for a feeling of relaxation and serenity," Wadden says. "There's also reassurance in its sentimentality, with nostalgic ties to the design of the '70s and '90s, but with gray undertones that give it a distinctly modern twist."
Urbane bronze can work inside or out in a home, used as a primary or accent color in bedrooms, living rooms, dens, or home offices, Sherwin-Williams says. Wadden also points out it can be used to accentuate window trim, columns, and accent walls in commercial or residential spaces.
"Complement the simplicity of urbane bronze with natural materials—like wood finishes, organic stone accents, or woven textiles—and a variety of mixed metals to create a serene space grounded in nature," Wadden says.
The 2021 selection, Urbane Bronze SW 7048, is the 11th official Color of the Year. The list of previously selected colors includes:
2011: Indigo Batik SW 7602
2012: Argyle SW 6747
2013: Aloe SW 6464
2014: Exclusive Plum SW 6263
2015: Coral Reef SW 6606
2016: Alabaster SW 7008
2017: Poised Taupe SW 6039
2018: Oceanside SW 6496
2019: Cavern Clay SW 7701
2020: Naval SW 6244
Source: Sherwin Williams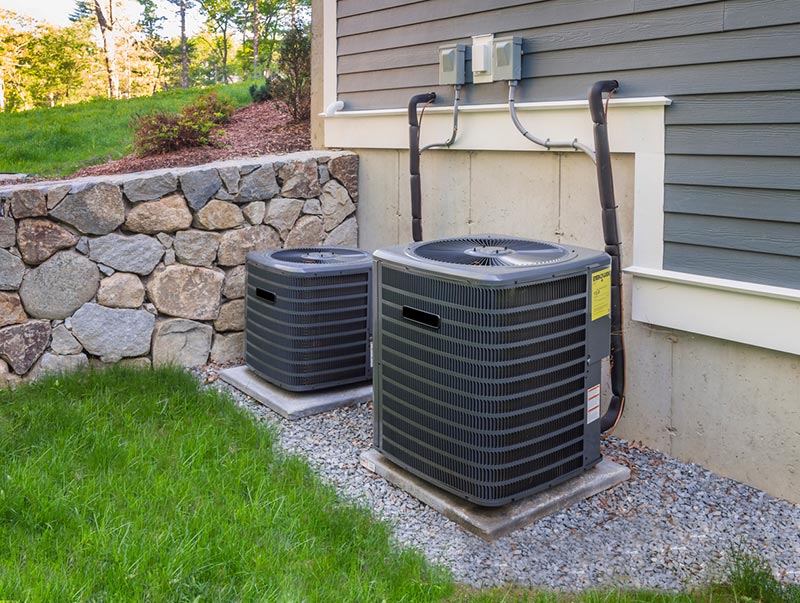 The summer heat is slowly dissipating, and now it's time to start prepping your air conditioner for the cooler fall temperatures. Depending on where you live in the U.S., you might not expect to use your AC unit much this fall, and you might not use it at all during the winter. Take some time to get ready to shut it down for the season while ensuring the unit is in good condition for next year.
Check Performance
Turn on your AC specifically to study how it performs. How long does it take to reach the temperature you've set on the thermostat? Is the air adequately cool? Does the unit make funny noises or emit strange sounds? Take note of anything out of the ordinary that needs attention before you turn it off for good this fall. It's better to address issues now when repair or replacement costs will be lower than when business picks up again next spring.
Monitor Thermostat
As you check your AC unit, keep an eye on the thermostat to see if the temperature stays where you want it to. If the room temperature vacillates or if the unit seems to run for several minutes before cooling the air to the specified temperature, you may have a problem. A thermostat that does not register the actual temperature or maintain the programmed temperature should be checked by a technician.
Schedule Maintenance
An annual inspection and assessment of your AC equipment is a good idea even when everything seems to be working fine. You may have gotten used to a small motor whine or a faint burning smell; this usually suggests that the unit is working extra hard to do its job. A yearly check can reassure you that all is well and ready for the next warm season. Small problems can be diagnosed with recommendations by the expert.
Perform Repairs
If a problem is detected during the inspection, have the AC repair work done promptly. Waiting for warm weather to roll around again could allow the problem to get worse and, as mentioned, service and equipment prices could go up in price. Having the work done now means that your air conditioning will be ready for you to enjoy on the first hot day next year.
Article from: Anita Ginsburg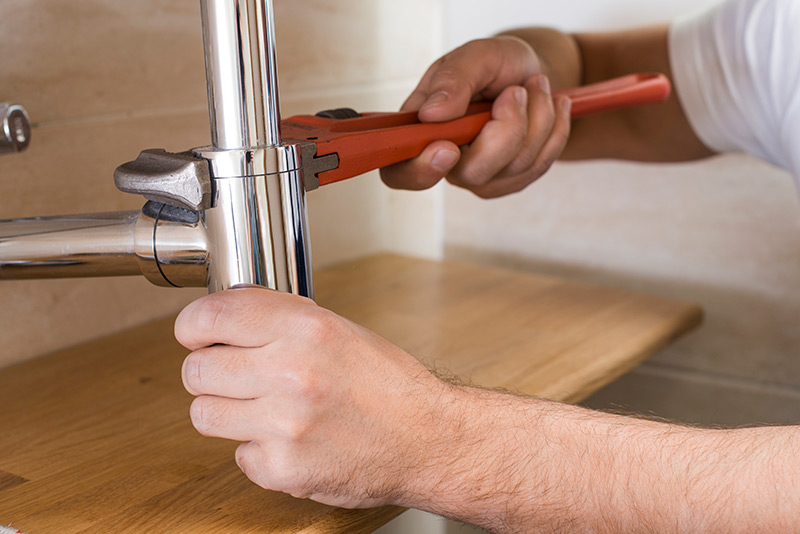 It's hard work becoming a homeowner. After you move into your new Arizona Horse Property house, realize that the work may not be completely finished yet. Here are a few things you should take a look at right away in order to maintain your new home.
Gutters
Your gutters are an important part of your home. They're designed to prevent water from damaging the foundation of your home by redirecting the flow away from the base. They'll also prevent ice dams from forming on your roof by creating a path for the water to flow off of your roof. You should inspect your gutters and clean them if necessary, as gutters can become easily clogged with leaves and branches – and even sustain damage over time if not taken care of.
Air Conditioner
Unless the air conditioner is brand new, you should ensure that it gets maintenance. You'll need to have the filter changed, since it's responsible for removing dirt, dust and allergens from the air. A dirty filter will cause your HVAC system to work harder, as well as produce poor air quality. You may also need to have your HVAC system inspected and serviced by a professional. Air conditioner maintenance will help you save money because the unit will use less energy and last a lot longer.
Water Heater
Your water heater likely needs to be drained if it's been used before. Sediment has a tendency to build up in water heaters over time, and few sellers have this taken care of before they sell their home. If the sediment hardens, your water heater will become less efficient. Draining the water heater will help get rid of the sediment and ensure your heater works normally long after you move into your new home.
Plumbing
Inspecting the pipes in a property you've just moved into is crucial. Look under your sinks to make sure the pipes aren't leaking. Additionally, you'll need to check your faucets for drips. If you notice any problems, call a plumber who can ensure that your sinks, toilets and pipes are in good working condition. Plumbing maintenance can help you save a lot of time and money further down the road.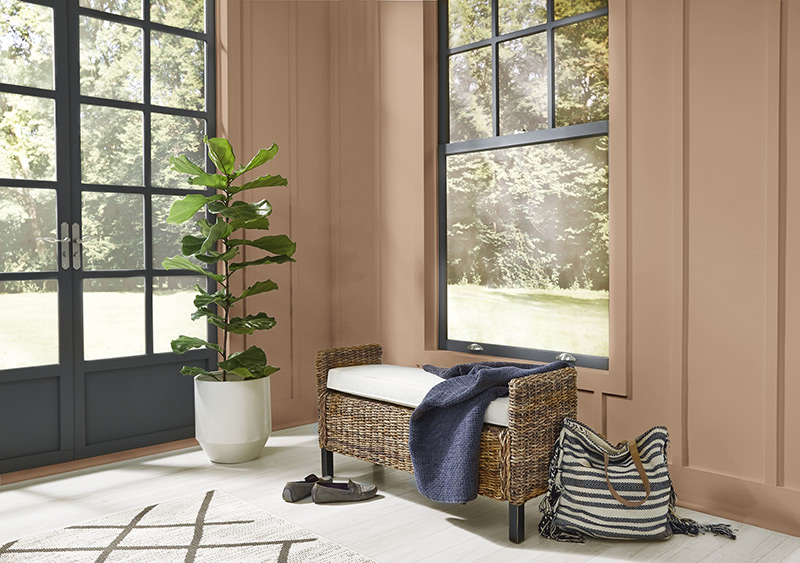 Behr Paint Co. unveiled 21 versatile colors on Monday to make up its Color Trends 2021 Palette. The colors include neutrals mixed with some lavish bolds to create "energizing, yet comforting" focal points in a home, Behr says.
"This has been a year of unpredictability and 2020 has significantly changed our relationship with home," says Erika Woelfel, vice president of color at Behr. "When our color team began exploring a palette for the coming year, we knew it needed to be grounded in what we've been craving: comfort and personalization. A new, 'elevated' articulation of 'comfort' goes beyond traditional beige, gray, and green hues and embraces color in a way that can redefine and enhance any type of space inside or outside the home."
Behr says color will play an increasing role in setting a mood for a space, creating a positive atmosphere, and providing a sense of well-being that ensures living and workspaces feel "pleasant, light, and productive."
The 2021 Behr color palette is organized into six color themes: casual comfort, subtle focus, optimistic view, quiet haven, calm zone, and outdoor escape.
Here's a breakdown of each theme, according to Behr:
• Casual comfort: Light and cozy neutrals that strive to offer an updated take on the casual farmhouse look (warm-toned hues like Almond Wisp and Sierra).
• Optimistic view: An eclectic mix of bright hues that allude to a Mediterranean or '70s "glam" vibe (Saffron Strands or Kalahari Sunset).
• Subtle focus: Soft pastels that are inspired by modern versions of art deco design (Seaside Villa and Wishful Green).
• Calm zone: Nurturing blues and greens continue to trend in creating calm, restorative spaces (Jojoba and Voyage).
• Quiet haven: Darker, evocative colors are presented as fit for traditional and maximalist decor (Royal Orchard and Broadway).
• Outdoor escape: Behr says that any of its 2021 color picks also can be used for exterior spaces and in expanding a home's livable space outside too (Barnwood Gray or Cellini Gold).
Source: Behr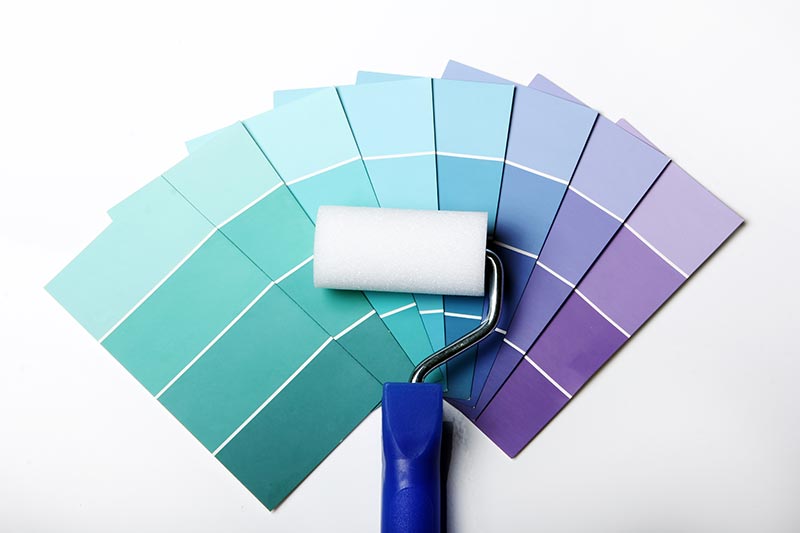 Many Americans turned their attention to their homes during the pandemic. Home improvement big-box retailers reported a swarm of traffic as homeowners looked to spruce up their nests while sheltering in.
What were homeowners working on?
Outdoor spaces were fueling much of the demand, according to Houzz, an online home remodeling platform. For example, new decks or patios, pools, and fences have gotten a lot of attention.
Homeowner Justin Sullivan shared with CNBC his feelings about his pool, home gym, and sauna projects. "When you're not able to go out, your house is an enjoyable space where you can live bunker-style and still be active, still feel comfortable, and still enjoy," Sullivan says. "The kids will have spaces to make sure they can work from home, and when it gets really hot in the summertime, they'll have a place where they can cool off."
Houzz reports a 58% annual increase in project leads for home professionals in June as homeowners looked to update their spaces. Searches for pool and spa professionals tripled this summer compared to a year ago, Houzz reports. Deck and patio professionals saw more than double the demand.
Also, demand for interest in fence installation and repairs jumped 166%, Houzz notes.
The desire for more space has been common for homeowners during the pandemic. That may explain why Houzz has seen a 52% increase in professionals being called in for home extensions and additions.
Kitchen and bath remodels also have been popular, seeing a 40% jump in demand in June compared to a year ago, Houzz reports.
Homeowners have seen record high amounts of home equity during the pandemic, which may be one motivating factor to tackle more house projects. More than 15 million residential properties—or 27.5% of all mortgaged homes–were considered equity-rich in the second quarter, according to ATTOM Data Solutions. (That means the mortgages on those properties is 50% or less than the value of the home.)
Homeowners don't appear to be done sprucing up their nests. More than three-quarters of homeowners recently surveyed say they plan to tackle a new house project over the next 12 months, according to Porch.com, a home remodeling website. Their top motivators were "finally having time," "adding value to the home," and a desire to make their home "feel more cozy."
Source: "Pandemic Home Remodeling Is Booming: Here's What Your Neighbors Are Doing," CNBC (Aug. 7, 2020)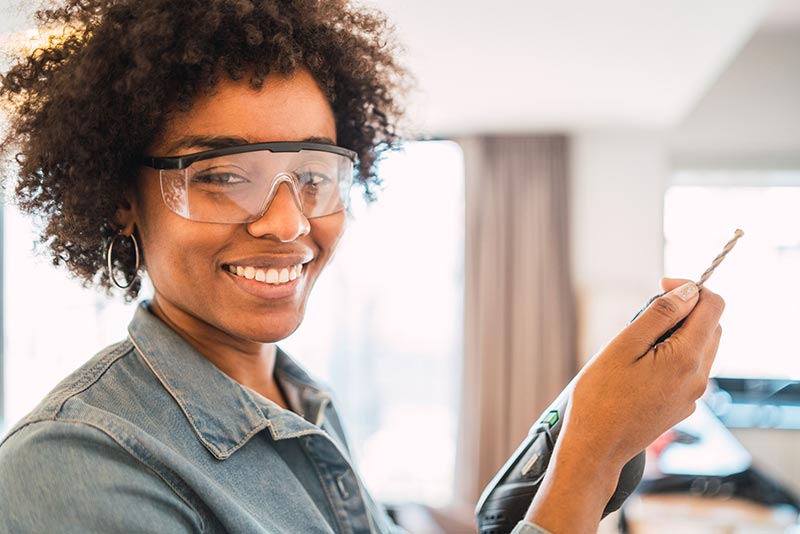 You finally have the time to work on home improvement projects, but you don't want to stretch the budget. The good news is you can make a big difference and enhance your Arizona Horse Property home with these easy DIY projects.
Change Out Lighting
Replace those dated ceiling lights with modern fixtures. Make sure you choose lighting that can handle the space and light requirements, and stay within the wattage guidelines when you install bulbs. And whenever you work on electrical projects, turn off the power before starting.
Redo Bathroom Caulking
Bathroom caulk can attract mold and will yellow with age. Cracked caulk lines will allow water to soak behind walls and floors, causing more grief in the future. Remove the old caulk with a putty knife or similar tool, and clean the area with a bleach and water solution before replacing it with a clean new bead of silicone caulk.
Upgrade The Thermostat
Energy Star reports that homeowners can save up to 8% of their heating and cooling bills by switching to a smart thermostat. Programmable thermostats are available for less than $30, so it's a win on the savings front.
Change Door Hardware
Changing the interior and exterior doorknobs to matching finishes and styles can make a bigger difference than you might think. Plus, you'll add a level of security by replacing loose keyed knobs and adding deadbolts to the exterior doors.
Replace Cabinet Pulls
Replace those old cabinet knobs or pulls with classic choices to immediately update the kitchen. Measure the "spread" between the two screws on your existing hardware, or take one with you to compare to new ones. Make sure the attached screws are the same length as the old ones or buy proper lengths of screws for your cabinets.
Drain Your Water Heater
No one will notice this project, but it will save you money and help you avoid plumbing problems. Drain a few gallons of water from your water heater two or three times per year to clear sediment at the bottom of the tank. This keeps the buildup to a minimum and allows the heater to work efficiently and last longer. Turn the gas and pilot light off or unplug the unit before starting and check the heater for leaks, which could cause headaches down the road.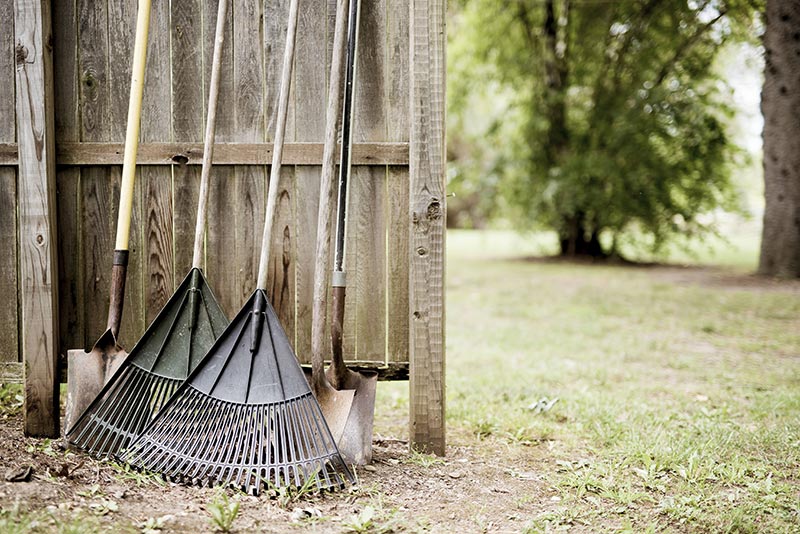 Many associate cleaning with springtime, but summer cleaning tasks are just as important. With warmer temperatures and longer days ahead, there's no better time to open the windows, throw on a pair of gloves, and get to work. Cleaning your Arizona Horse Property home is important, but don't forget to take care of heavy-duty home maintenance tasks as well. As you cross items off your summer maintenance checklist this year, be sure to add these tasks as well.
Examine Your Home's Exterior
Power washing is a relatively easy and inexpensive way to give the exterior of your home a quick refresh. Blast off any residual grime that may have built up during those spring showers. However, be sure to do this before the very hot months make extraneous water use irresponsible. Keep an eye out for any chips or cracks in the exterior paint—exposed wood and siding can be subject to rot, so protect areas with a fresh coat of paint, if needed.
Rain and snow can lead to branches, leaves and other debris clogging foundation vents, gutters and downspouts. Clogs and leaks in your gutter system can lead to expensive damage to the roof or even the interior of your home. Check your gutters and downspouts for any accumulated gunk that might cause an issue—you'll want to make sure they're prepared to drain properly for those spring showers. If you do come across a clog in your gutters, try removing the debris or using a garden hose to force out any built-up material. If the debris proves to be too difficult to remove on your own, consider hiring a professional.
Spruce Up Your Outdoor Areas
Spring isn't the only season known for its beautiful blooms, so tackle those annual landscaping tasks to boost your curb appeal. Summer landscaping can include planting drought-resistant plants, covering gardens with mulch to protect roots from the hot sun and picking out summer-ready flowers like sunflowers and lavender. Make sure branches and shrubs are trimmed away from your roofing and siding to prevent moisture damage and provide pest control.
Mowing and weeding your grass now will help you stay on top of any sudden growth that takes place when the weather warms up. Planting annual perennials, which love the summer heat, is a low maintenance way to give a dash of color to your yard and increase your property's curb appeal as you begin to enjoy the outdoors more and more.
Have Your HVAC Inspected
Your Arizona Horse Property home's heating and cooling system should be inspected, serviced and cleaned at least once a year, and it makes sense to do so when the temperatures will be changing drastically. Your heating system likely worked hard all winter, and as you switch to your cooling system, regular maintenance can extend the life of your furnace and postpone expensive replacements.
Change the air filters regularly to prevent major HVAC issues. If your home has foundation vents, be sure to clean them by hand or with a shop vacuum. Foundation vents usually have screens that become a catch-all for leaves, twigs and assorted debris.
Article provided by Brentnie Daggett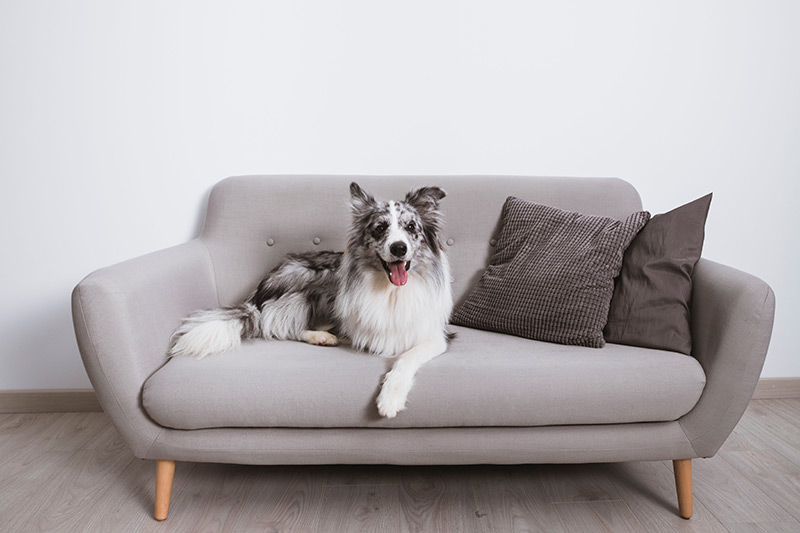 We love our pets, but we don't love the damage they do to our homes. Whether they relieve themselves on your sofa or emit funky odors, furry ones can foil your best efforts to keep your place looking and smelling its best. Having an animal or two in your Arizona Horse Property home doesn't mean you have to resign yourself to living in filth. Often, a few pet-friendly purchases and habits can keep things under control.
Groom Regularly
A clean pet can mean a cleaner, fresher house, especially if you groom it consistently (every month or so as needed). And if you don't have a dedicated room where you can lather up your pup, carve out a corner in an existing space like the laundry area.
Pet-Friendly Furniture
If your pets tend to lounge on your couch or other spots meant for humans, over time the spots will start to smell like your pets—and certain fabrics absorb odors more than others. Natural fabrics like cotton and linen hold more odors. Look for man-made materials like polyester, polypropylene, and olefin. If you must stick with cotton or linen, get a slipcover so you can easily pop it into the washing machine.
Wash Pet Toys
Just the way you change dish towels in the kitchen every few days, throw some of the cat's fabric mice in the washing machine, or your dog's chewy toys in the dishwasher. If you get in the habit of cleaning these playthings, they will build up fewer odors over time.
Scrub Down That Couch
Another benefit of furniture made from synthetic materials? They can withstand a light bath. One cushion at a time, spritz your sofa with distilled water, followed by a drop of dish soap and then use a soft-bristled brush to create a lather. Wipe away excess liquid and soap with a clean cloth. If your couch has a cotton or other natural fabric on it, resist the temptation to clean with water as the material may shrink.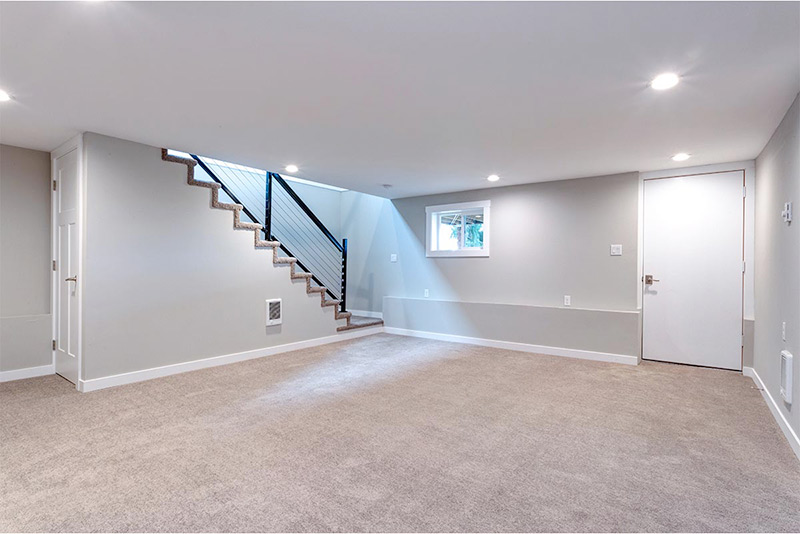 Even though the country is reopening, we've all had plenty of time to stare at the walls in every room in the house. For families desperate to create a new gathering spot that they're not sick of being in, the basement offers plenty of potential. Here are a few projects to transform your Arizona Horse Property basement into a light-filled, inviting space for relaxation and fun.
HVAC Upgrade
If your family complains about hanging out in the basement because it's too chilly, too damp, or just plain not cozy enough, this might be the perfect time to upgrade your heating, cooling, and ventilation (HVAC) system. Boosting the air efficiency in your home makes an immediate difference and your basement should feel just as comfortable as the rest of your Arizona Horse Property house. Check into multizone HVAC equipment and creating a separate zone for the basement that can be controlled by its own smart thermostat.
Lighten Things Up
Think of the word "basement" and the first thing that probably comes to mind is … dark. Luckily, this is one of the quickest and least expensive things to fix. Roll on a coat of fresh paint for instant impact. Wood paneling all but disappears under white or light-colored paint, making the room appear much larger. Many basements make do with lamps, but it's worth paying more to illuminate your space properly. Use recessed lighting, it's stylish, and it doesn't take up precious space in the ceiling.
Create a game room
If you already have a separate room in your basement that can't become a legal bedroom, that could make a pretty awesome gaming room your kids will thank you for. Paint this room dark and dramatic, throw in a few oversized bean bag chairs, and your kids may have a new favorite spot in your home. This setup is also perfect for watching movies, or for a man cave, where you don't need much light.
Repurpose Your Wet Bar
If you're lucky enough to have a finished basement that just needs a modern face-lift, there are affordable ways to do it. For example, remember when many basements featured a massive bar as a focal point? You can incorporate this into your remodel. Bars generally have pre-existing plumbing in them that can be re-routed. Add a new granite counter with seating, and then put in a kitchenette by adding a cooktop, a small refrigerator, and a sink. Having a kitchenette in the basement works especially well if you also have a bedroom and bathroom downstairs, as it makes the perfect guest suite.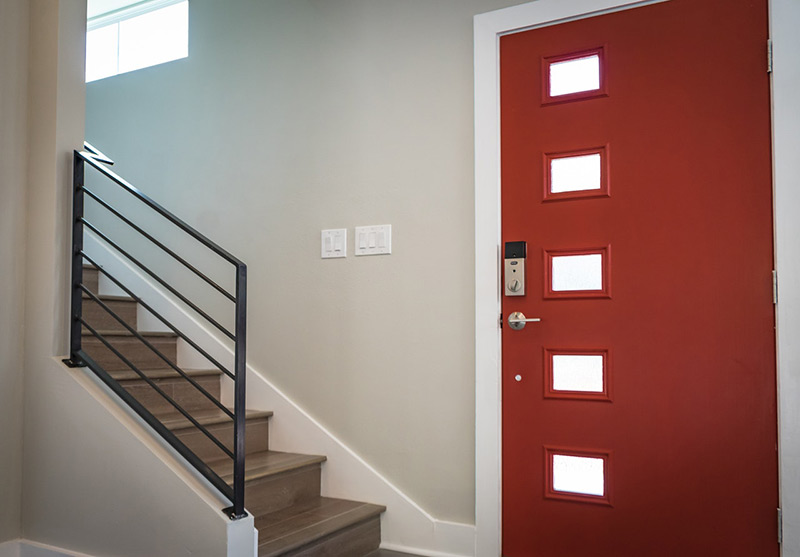 Homeowners in Arizona Horse Property who are either waiting to list their home, or simply wanting to do a little updating, can make a big difference in their home with upgrades that don't have to cost a fortune. Simple DIY projects can enhance a home and make spaces more appealing for buyers when homeowners are ready to move forward with their home sale.
Here are several budget-friendly home improvement ideas that encompass everything from a splash of paint to tending to the front yard.
Lighting
Changing out the lights can have an impact on the home. Modern and classic fixtures can upgrade the entire look.
Paint
Painting is one of the simplest DIY projects that can give spaces a drastic update. Trendy blues and grays can help spice up rooms.
Landscaping
Adding flowers, piling on fresh mulch, and trimming shrubs can make a big difference. Demand for front porches has grown in demand during the pandemic, so making the most of your outdoor spaces will certainly add value if you're thinking about selling.
Temperature
Arizona Horse Property homeowners could consider a smart-home upgrade, like a smart thermostat. This update helps homeowners save money on their heating and cooling costs. Programmable thermostats are available for less than $30.
Doorknobs and Cabinet Hardware
Swap out interior and exterior doorknobs to match other finishes in the home. This can also add greater security with new, higher quality locks (or smart locks). And don't underestimate the impact of new kitchen cabinet drawers or pulls—they can add an instant update.
Mirrors
Homeowners in Arizona Horse Property can give the bathroom wall-size mirror an instant update by adding a frame to the mirror to dress up the space. They can simplify this DIY task by working with companies like MirrorMate, which offers frames for this reason.